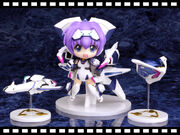 Nendoroid (ねんどろいど Nendoroido, sometimes called Nendroid) is a brand of small plastic figures, created by the Japanese Good Smile Company. Nendoroid figures are usually replicas of an anime or manga character and are commonly used as collectors items or toys. They are roughly 10 cm (4 in) in height, depending on the character they were made to look like. Normally they are made in a chibi or super deformed style, with a large head and smaller body to make them look cute. Their faces and body parts are movable and interchangeable, giving them a range of different expressions, postures and items to hold.
Nendoroid figures have been made based on characters from anime and manga series like Kannagi: Crazy Shrine Maidens, Lucky Star, Death Note, K-ON!, Haruhi Suzumiya, Fate/stay night, Black Rock Shooter as well as characters from the synthesizer software Vocaloid along with games such as Touhou Project.
"Nendo" is Japanese for clay or plasticine.
Videogame Nendoroids
Edit
An RPG based on Nendoroid figures, titled Nendoroid Generation (ねんどろいど じぇねれ~しょん Nendoroido Jenareshon), is being developed by Bandai Namco Games, Good Smile Company and Banpresto for PlayStation Portable. The game will feature characters from Black Rock Shooter, Haruhi Suzumiya, Magical Girl Lyrical Nanoha and Fate/stay night.
Nendoroid Exelica
Edit
The Special Edition of
Triggerheart Exelica Enhanced
featured the 49th Nendoroid set called "Exelica & Unit Set" (エグゼリカ & ユニットセット
Eguzerika & Yunito Seto
), a chibi
Exelica
with removable Combat Gear and chibi versions of the
A'rstear
and
D'rfend
.
External Links
Edit
Nendoroid Official Site (Japanese)
Good Smile Company English Site
Nendoroid Generation Official Site (Japanese)